Automotive Market Weekly starts Friday, April 24 with a focus on the automotive industry with content from Advanstar editors and production by AutoNetTV
Irvine, Calif. (April 13, 2009) – Advanstar Communications, a leading provider of integrated media solutions to the automotive aftermarket, off-road, and powersports industries, has entered into an agreement with AutoNetTV to produce a weekly news show called "Automotive Market Weekly." The show will focus on the major happenings in the automotive industry with an emphasis on three major content channels – collision repair, service repair and distribution. Automotive Market Weekly will be webcast on Advanstar's automotive web portal SearchAutoparts.com every Friday. The first program will air on Friday, April 24.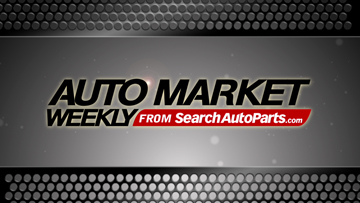 "Automotive Market Weekly is the culmination of a year's worth of planning, and is a natural extension of our online industry news reporting," said Jim Savas, vice president and general manager of Advanstar's Automotive Group. "We're looking forward to working with AutoNetTV to bring this new program to the web. They are dedicated to providing valuable, professional automotive content to the online community, including SearchAutoparts.com. We're looking forward to the opportunities Automotive Market Weekly will present for our viewers, readers and advertisers."
Under terms of the agreement, Advanstar's award winning editorial team will provide the content for the program while all production aspects will be handled by AutoNetTV.
"We are delighted to partner with Advanstar Automotive Group (AAG) to produce the Automotive Market Weekly," says AutoNetTV vice president and co-founder, Lance Boldt. "Advanstar is extending its tradition of bringing the best strategic and tactical information to the automotive aftermarket -in print, online, and now with the power of video. In the spirit of Advanstar's online community, AutoPro Workshop, the Automotive Market Weekly will have a tremendous impact on all aspects of the aftermarket, from manufacturers,distributors, service and repair technicians and those providing support services."
"Automotive Market Weekly is a perfect complement to AutoNetTV's monthly Pro Channel TV program that provides technical, marketing and customer service training to the aftermarket," commented Robert Cannon, chairman and CEO of AutoNetTV. "AutoNetTV's first class production quality combined with AAG's news gathering resources will truly make Automotive Market Weekly the voice of the aftermarket."
For more information on Automotive Market Weekly, visit www.SearchAutoParts.com.
If you'd like to schedule an interview with Savas, contact Mike McClelland, group marketing director at (949) 954-8614 or e-mail Mike at mmcclelland@advanstar.com. For more information on AutoNetTV, contact Sean Whiffen at, Vice President and Co-Founder, at (801) 492-9900 or e-mail Sean at swhiffen@autonettv.com .
# # #
Fueled by Advanstar
Advanstar Communications (www.advanstar.com) is a leading provider of integrated media solutions to the automotive aftermarket, off-road and powersports industries, offering a portfolio of 5 industry leading magazines including titles Dealernews, 2 Wheel Tuner, Aftermarket Business, Automotive Body Repair News and Motor Age; 15 targeted supplements and buyers guides; 15 consumer events including leading brands Off-Road Expo, the largest off-road consumer show series in the country and the International Motorcycle Shows, the largest consumer motorcycle event series in the world; Dealer Expo, voted a 2005 Tradeshow Week Fastest 50 tradeshow winner; 12 websites including Search-Autoparts.com, the automotive aftermarket's largest B2B website, and 42 training manuals for vehicle industry professionals, trade buyers, and enthusiasts.
Through a multi-media approach, Advanstar reaches nearly 9 million original equipment and aftermarket manufacturers, distributors, service & repair professionals, retailers, and consumers. Advanstar drives insightful news analysis, research and trends, entertainment, new product information and buying opportunities to customers at their office, home, and race track – keeping them passionate, competitive, and connected.
About AutoNetTV
AutoNetTV is the pioneer of automotive television programming for customers in the waiting areas of service centers. Over 5,000 service centers throughout North America receive this custom programming to educate over 3 million customers each month on their factory scheduled and preventative maintenance needs, and to improve their waiting experience. AutoNetTV combines fast-paced entertainment pieces from CBS with independent editorial content to increase customer satisfaction and preventative maintenance services. The monthly program is approximately an hour and a half long and provides multiple options for major service brands to integrate their branded messages within the existing AutoNetTV programming content. AutoNetTV also provides the Pro Channel, dedicated to the owners and team members of service centers. This program provides business and marketing insights, technical training, and other industry-specific messages devoted to the professionals working in the automotive aftermarket. The Pro Channel is also used by major brands as a corporate communication platform. The AutoNetTV Web Tools brings powerful, search optimized consumer education videos to the websites of automotive service centers. Website: https://www.autonettv.com